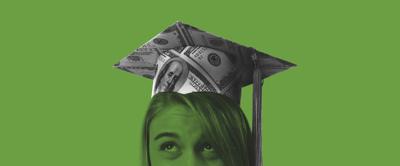 Garrett Hansen wonders if most people who have already paid off tens of thousands of dollars in student loans would even think twice about paying an unexpected, but comparatively small, $779.55 bill from their student loan servicer.
It made Hansen think, though, and more than twice. Then it took him and SOS two months to get it zeroed out.
Hansen, 33, of Milwaukee, contacted SOS in August with a story that sounds a lot like the kind of recurring nightmare a deeply indebted recent college grad might have: He had a letter from March 2017 showing his loans were paid off, but then in June of this year started getting bills from Madison-based student loan servicer Great Lakes Higher Education Corp.
Hansen estimates he spent dozens of hours on the phone with multiple people from Great Lakes, the U.S. Department of Education, and a Pennsylvania loan servicer to which he was referred. Why Pennsylvania? He doesn't know. He's never attended college in the Keystone State.
After all that about the most he could say was that "the charge regards a 'manual adjusted interest cap subsidy' from the DOE" prior to when he consolidated his loans in November 2012.
"I have been told by multiple people at Great Lakes (GL) that they have never seen one go back this far and be charged this much," he said via email on Aug. 29. "I have also been told 'unofficially' by GL that they were going to eat the cost but no one will confirm or anything. I have also been told (by GL) … that I need to pay it because I 'owe' it without any further information as to why, which just seems ludicrous to me."
Great Lakes was less talkative when contacted by SOS, with spokesman Brett Lindquist saying that due to "privacy rules," he couldn't share any information about Hansen's case but would pass it along to "our Borrower Services team," which was to contact Hansen directly.
A DOE spokesman, who didn't want to be identified by name, wouldn't talk until he got a release-of-information form from Hansen, which SOS emailed to Hansen, Hansen signed and snail-mailed to SOS, and SOS snail-mailed to the spokesman.
Then the spokesman informed SOS that the $779.55 stemmed from information Hansen's prior servicer had shared with the feds, and reflected "interest that had not been properly capitalized on his loan."
In other words, someone involved in making sure Hansen paid back his loans, plus interest, didn't count the beans correctly.
Now the DOE "has determined that the amount billed to Mr. Hansen will be considered as a part of the original paid in full payment," the spokesman said, as "Mr. Hansen paid his account in full according to the information that he had received from the servicer."
On Oct. 27, Hansen got a letter from Great Lakes saying much the same thing, and wiping out what was now — after interest had accrued — an $858.41 bill. He says he'll be keeping the letter, as evidence, for a long time.
["source=forbes]